Buying & Measuring Advice
Starting a new school is an exciting and positive time for you and your child, The Class Collections are here to help to make buying uniforms a simple, stress-free experience. We work closely with schools making sure that uniforms are both smart and comfortable for the wearer and that our prices are competitive.
Here are some important tips to consider when purchasing a uniform, and ways to ensure when you are measuring that you achieve the best possible fit.
Please note that we have extended our returns policy in light of Covid-19 to help parents.
Be organised: We really recommend that you order in plenty of time before the school term starts. We highly recommend that you order at least 4 weeks before the start of school or the new term.
We are always busiest at the end of the school summer holiday so we recommend that you are prepared and avoid leaving it all to the last minute. We have a very fair returns policy, so if your child has a growth spurt before the start of term you can return items easily later on.  Please check our returns policy for details.
Check your school's requirements: It is important to check the uniform list from your child's school which will detail uniform requirements, have it to hand when placing your order and pay attention to recommendations about how many of each item will be needed. You may need to check which House your child belongs to as this will change the colour you require of certain items.
Measure your child: We recommend that you start by measuring your child before you order their uniform, use our sizing guide for each garment as a reference and follow the advice below about where to measure.
Sizes do differ from manufacturer to manufacturer, and our sizing guide shows the size ranges for our most popular styles. Please remember it's a guide, and variations will occur.
Blazers: When fitting a blazer, it is essential to make sure you wear all additional layers underneath to give an accurate idea of the size needed. Sleeves should finish on the first knuckle of the thumb, it will sometimes be required to fold the sleeve hem inside the sleeve to achieve this (and allow for growth).
Due to government restrictions we regret that we are currently unable to allow the trying on of any items at our shop. Please see below some helpful videos which demonstrate how to measure for a blazer.
Measuring a girl's blazer: https://www.youtube.com/watch?v=cvUB72vUGK4
Measuring a boy's blazer: https://www.youtube.com/watch?v=2RazQ4VGKQE
We also recommend that you may wish to find an item of clothing such as a jacket that fits well and use that as a guide. We had added sleeve lengths to our Size Guide to add further help.
Waist Sizing: Always measure the waist at the natural waistline (the smallest part). In younger children this is usually midway between the bottom rib and hip bone, this should not be measured where the waistband of the item will sit.
For skirts, trousers and PE shorts, this measurement (in inches) will equate to the required size.
Skirt Length: Some schools have very specific requirements related to skirt length, so please bear this in mind and refer to your schools' individual regulations.
Leg measurement: When measuring, make sure your child is are stood up straight with shoes on. Measure from the top of the leg (inside near to the crotch area) down to where you want the trousers to finish. This is usually 1 inch from the ground.
Coats and Jackets: Similar to when fitting a blazer coats also need plenty of room for additional layers underneath to give an accurate idea of the size needed. The coat/jacket is the top layer and will be worn over the blazer plus other additional layers. It is important that your child tries on a coat/jacket whilst wearing other layers that accurately represent their uniform.
A Special word about Ties: Ties unfortunately do have a tendency to get lost, so often parents like to keep a spare to avoid consequences at school. Some schools have a quantity requirement for certain items which you can check in the school's uniform requirement list. We recommend that you always have at least one spare tie.
Please note that all ties are dry clean only.
Trying on items: We are unable to allow customers the option to try on items in-store. This is because our shop is online only, the items are picked from a warehouse space and shipped to you or the click & collect point. We have a very fair, free exchanges service should you need to swap any items.
Personalisation: Please allow 1-2 weeks for printing or embroidery. This can take slightly longer during peak times.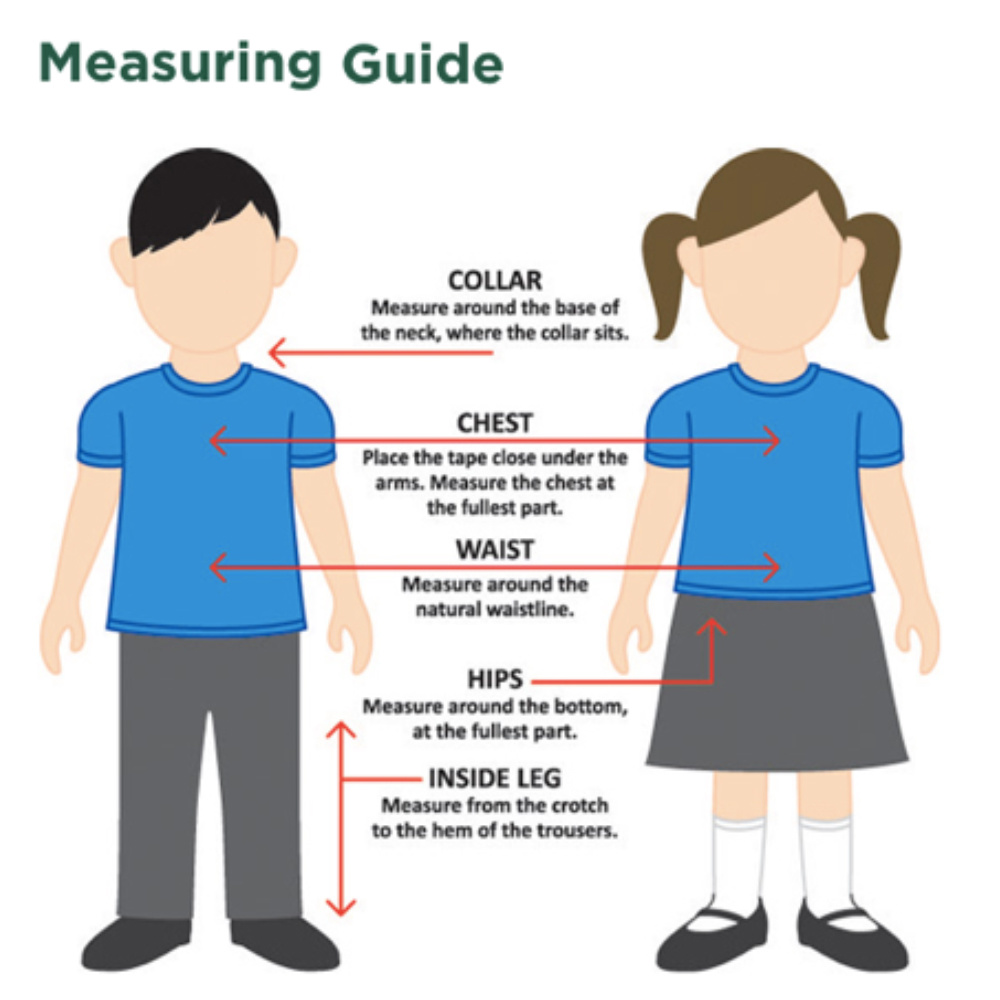 A Reminder about VAT: UK laws regarding VAT state that children's clothes up to age 14 years are not VAT applicable. This is reflected in the prices you see here on our website and in our digital brochures.
Please note that Adult Sizes from XXS-XXXL are VAT applicable.