Size Guide
Please note this is intended as a guide, we supply several makes of garment from different manufacturers and sizes do vary.
We have extended our returns policy to accommodate any items that have been bought and do not fit. We ask you to make your purchase using the information on this website as a guide and choosing the items that you believe will be the best fit.
You will be able to return any items that do not fit and will be offered a refund. We ask that you let us know by email if you plan to return an item. Items which are unworn/ unwashed, still have original tags and are in the condition they were sol in will be accepted for returns.
If you find that you need to order a different size please do so via our website in the normal way of ordering.
Adult and child sizes: When you are selecting the size of the garments you will see that some items are offered in 'child' and 'adult' sizes. Please refer to the chart here to see that some sizes are actually very similar.
A child size 13-14yrs is often the equivalent of an adult size S. This is due to different manufacturers using different sizing.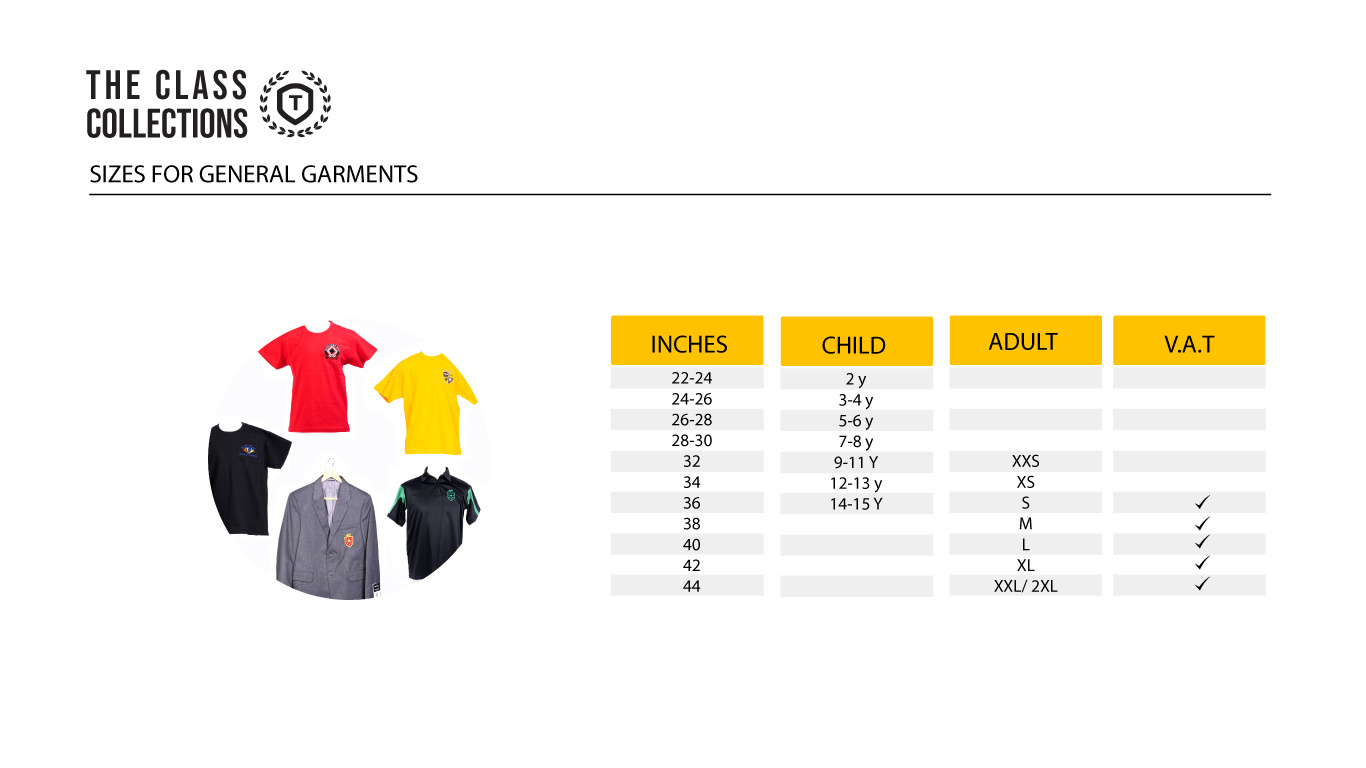 Special Sizes: We can arrange for items outside of our stocked size range to be made. If you require a special size please email us to discuss your requirements and place your order. You will need to allow  6 weeks from order to delivery. Please be aware that any orders placed by special request are non-returnable and non-refundable.  Details about how to contact us can be found on our Contact Us page.
Blazers: Please see below for extra guidance with blazers. Below you will find the sleeve lengths.
FEMALE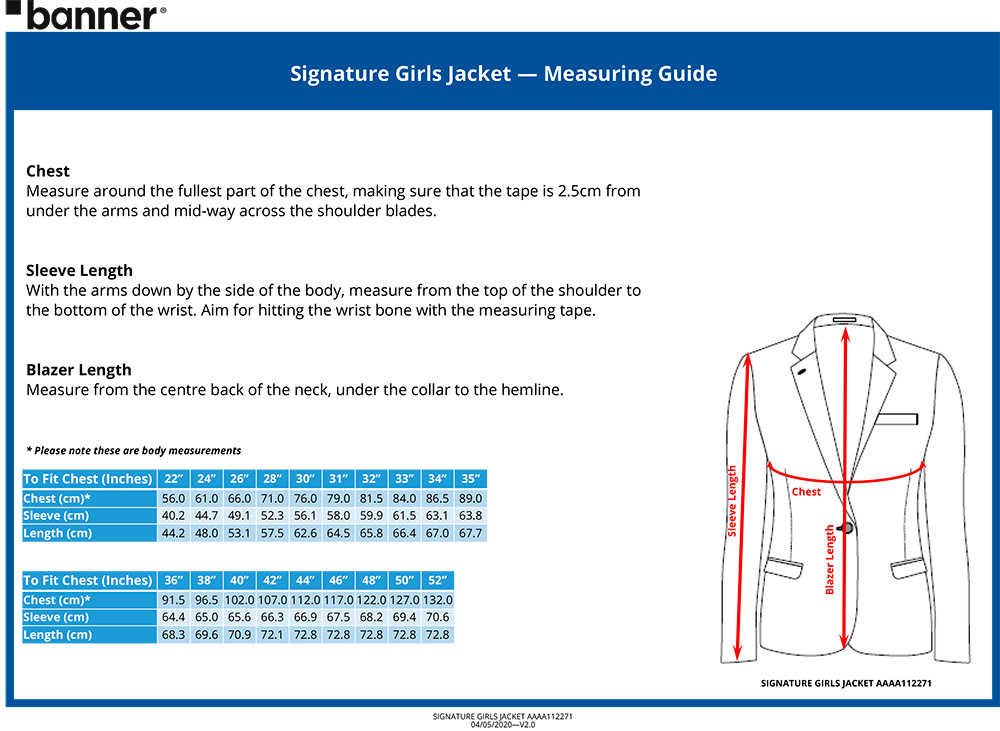 MALE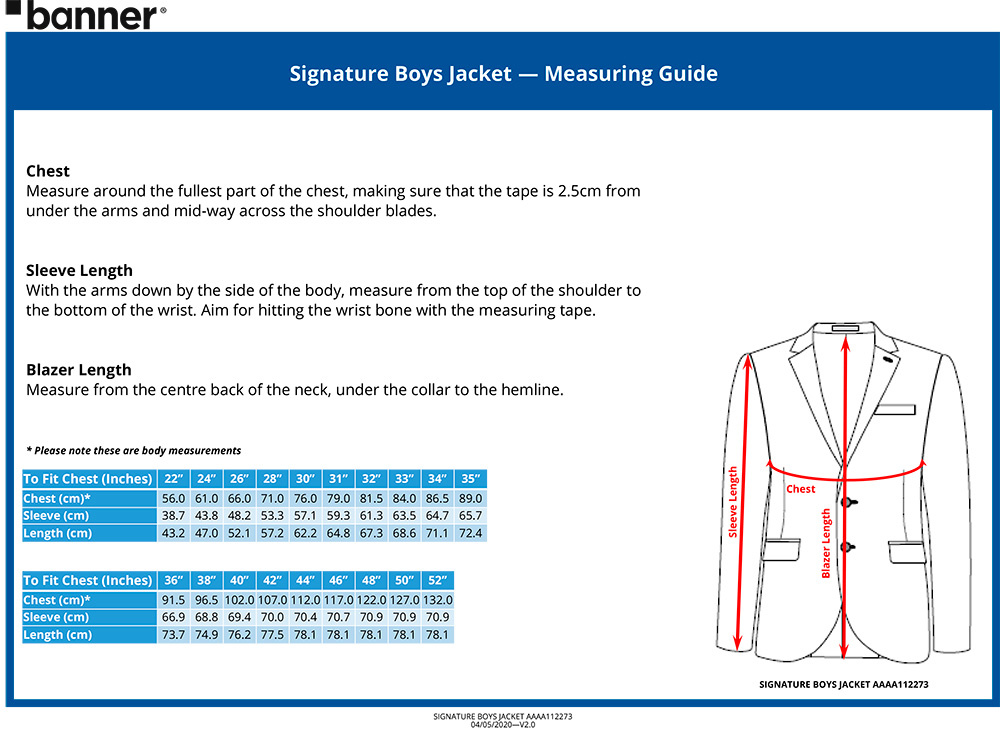 PE Polo shirts: The new style P.E Polo being introduced by Nicholas Chamberlain School in September 2020 has slightly different sizing to the previous polo. The table below shows the new size conversion. Please note that there is no Male XS size in the new style.  If you receive a size S this is the reason. The measurements are explained below.
Male Polo

TRIDRI- New style PE Polo

Chest measurement in inches

34"

38"

42"

46"

50"

 

Size

S

M

L

XL

2XL

 

Previous style PE Polo- (Coloured side panels)

Chest measurement in inches

32/34"

34/36"

38/40"

42/44"

46/48"

50/52"

Size

XS

S

M

L

XL

2XL
Female Polo

TRIDRI- New style PE Polo

Chest measurement in inches

30"

34"

38"

42"

46"

 

 

Size

XS/6

S/8

M/10

L/12

XL/14

 

 

Previous style PE Polo- (Coloured side panels)

Chest measurement in inches

30"

34"

38"

42"

46"

48"

50"

Size

XS/6

S/8

M/10

L/12

XL/14

2XL/16

3XL/18